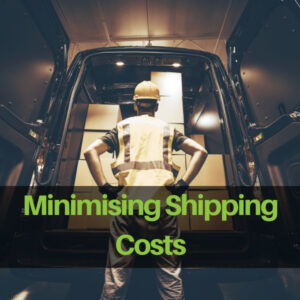 Minimising the costs of your product shipping is all about building cost-efficiency from the start of your logistics process, which means planning and optimising the best packaging options from the outset.
Get Yourself The Best Protection
Preventing damage to your product has to be the first consideration. Damage and returns cost you money, plain and simple. The best protective packaging can prevent costly damage during transit, with all the associated costs of returns, product replacement and additional re-shipping charges, not to mention unhappy customers.
Watch Your Weight
Sounds an obvious one, but with overall weight a key factor in shipping costs, selecting the lightest packaging materials available, without compromising on the levels of protection for your products, is key to reducing your shipping costs.
Turn Down The Volume
Making sure your overall package size doesn't become too bloated is also important. Using a box that's too large, or inner packaging that's too bulky is inefficient and will add to the overall pack dimensions and physical weight, pushing up your shipping costs. Many of the major carriers now use a shipping pricing method that evaluates two main factors, one of which is the overall volume of the package (a 'volumetric' or 'dimensional' weight), as well as the physical weight. If the dimensional weight (DIM Weight) exceeds the physical weight, the DIM weight is used to calculate the cost.
Dimensional weight pricing policies are becoming increasingly strict, with new policies implemented by many of the major carriers in 2017. Using inner packaging which maximises product protection whilst minimising overall size, along with outer cartons and packaging which are specifically designed to fit snugly with no wasted space is key to reducing the overall volume of the package, and therefore keeping costs down.
Calculating the dimensional weight of your package is not quite as easy as the physical weight, although the following formula should help. First, calculate the volume of your package by multiplying its length, width and height in centimetres. Divide the result by 5,000, which is the figure used by major carriers in 2018. If the number you get is greater than the weight of your package, the shipping cost will be calculated using the dimensional weight rather than the physical weight. Many of the major carriers have handy calculators on their websites.
Plan Your Packaging
As previously mentioned, keeping your shipping costs as low as possible is all about planning and optimising the best packaging options from the outset. If you'd like further help and advice on your packaging options, please don't hesitate to contact our friendly and expert team. Together we can reduce your shipping costs and build the best packaging solution for your unique needs, including bespoke protective packaging if required.